Bad Luck Brian Memes: On Picture Day
Kyle Craven, better known for his Bad Luck Brian Memes, was the class clown and prankster of his high school. His gags included riding a unicycle at pep rallies and doing a comic rendition of a Hansen song at the talent show. It was no surprise when he showed up to picture day with a plan, though, that plan never included becoming an internet sensation.
Prepared with a plaid vest and a rehearsed goofy smile, Kyle guffawed at the camera and the shot that would launch him to internet stardom was captured. His principal was not amused and forced Kyle to retake the picture for the yearbook. Kyle still got the last laugh (or so he thought) when he convinced a friend on the yearbook committee to include the new proper picture twice, side by side. In truth, the laughter was just getting started.
Bad Luck Kyle Doesn't Have The Same Ring To It.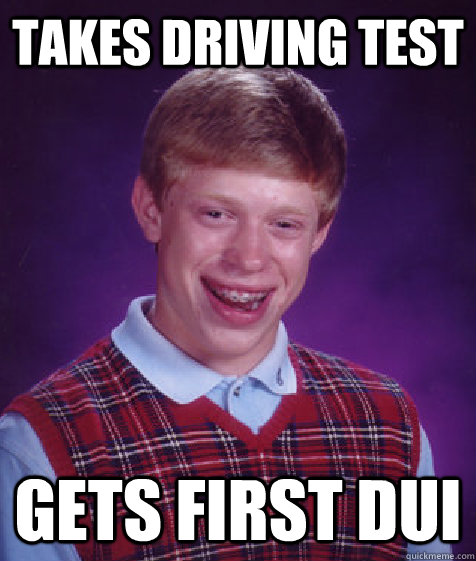 Kyle's long-time friend, Ian Davies, got a hold of his picture day gem a few years later and decided to bring it back to life. He added the words "Takes driving test… gets first DUI" to the image and posted it on Reddit. Ian explains "He was always kind of crazy; running around, trying to get a laugh out of people. He was always crazy Kyle." Ian spontaneously named the meme "Bad Luck Brian" and it stuck.
Ian's original meme caption didn't catch too much attention, but the picture of Kyle did. It was only a matter of time before others replaced the captions with their own. Its popularity began to snowball to a global sensation.  Kyle eventually announced his true identity and took claim of "Bad Luck Brian". He also took the next step and licensed the image for commercial use.
Bad Luck Brian Paid To Do Nothing
Between licensing deals and merchandise, Brian managed to rake in $15,000-$20,000 in three years. It wasn't a life-changing amount of money "but not bad for doing basically nothing," he says. Though Brian capitalized on the viral meme, many believe he missed his opportunity to really cash in. Other meme sensations, like Overly Attached Girlfriend's Laina Morris, used their memes to launch YouTube channels and grow larger followings. Morris now boasts over 1.2 million YouTube subscribers. Kyle did try to take a page from Morris' book over a year after his meme went viral, but it was too little, too late.
Conclusion
Bad Luck Brian still receives occasional calls for licensing and commercial use, but Kyle Craven has shifted back into normalcy. He is now a project manager for a family's construction company and makes his income by building churches. He is still amused by the memes and says, "It's something to show my grandkids one day, right?
Make the funniest memes in your group of friends. Find the perfect image, gif, or video and use Meta Meme to turn it into the next big thing.  Click here and scroll down to download our app!