Hot Mug Shot Guy
The internet is prone to the creation of memes. As you remember, the hot mug shot guy, Jeremy Meeks was a global meme when he was arrested for being too good looking (not quite).  The photo took many by surprise, not for the crimes committed but because of his good looks.  Hot mugshot guy was globally famous for being very handsome and blessed with pulchritude, proving beauty is a crime. The story of Jeremy Meeks began when he was convicted with the Stockton Police Department, showcasing his face on their social media page. This photo was no ordinary mugshot, and if you look at the photo, you will begin to understand why. Within roughly 48 hours of the mugshot being posted, the photo went viral. With thousands of comments from around the world.  Statistically, Jeremy's mugshot received 56,000 likes and 16,400 comments. More than some local celebrities manage to get!
Mugshots Are The New Head Shot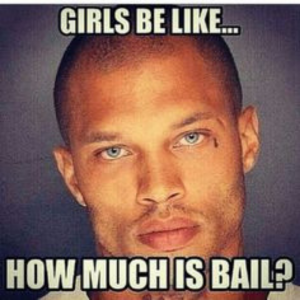 These thousands of people had one common interest, Jeremy. With his stunning good looks, his photo wooed the crowd. Surprisingly enough, everyone who came in contact with the post had something nice to say about our hot mugshot guy. They were obsessed with how extraordinarily attractive the photo was. With numerous comments voicing their thoughts about Jeremy as nothing less than "delicious." With the trendy nature of social platforms in mind, the hashtag movement started, #FreeJeremyMeeks skyrocketed. Closely accompanied by #HottieThug on Twitter. To make a long story short, Jeremy Meeks, the local hot mugshot guy was the most popular meme on the internet at that time. He was the physical embodiment of the long-used pickup phrase of "If being hot is a crime, arrest me!" The mugshot photo continued to take many by surprise. With looks that great, we all can see why.
Popularity In Memes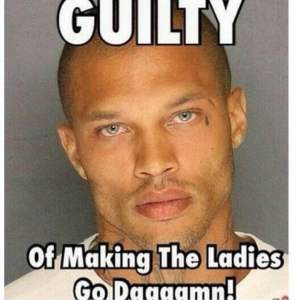 The story of Jeremy Meeks was long from over. After the hype, came even more hype in the form of memes and edits. Meme makers edited his face on advertisements for modeling agencies and fashion advertisements. With numerous other edits floating through all social media outlets. The meme community had a new hot topic of interest.  The memes flood not only added a pinch of humor into the mix but swayed others towards the hot mugshot guy. As the number of shares increased, so did Jeremy's fan following! To most, his charges didn't matter. His actual conviction was based on felony weapon charges. However, can those baby blue eyes do anything wrong? Absolutely not! The internet and the fan following of the mugshot guy were fairly convinced.
From Hot Mugshot Guy To Hot Modeling Dude!


While the photo brightened up many newsfeeds on social media, the real-life changer happened for Jeremy himself.  His life took a turn for the better. After finishing his sentence on account felony weapon charges, he was a free man. A free man who got enrolled in a modeling career with White Cross Management. He surprisingly excelled in his modeling career while working up to the point of a debut at New York fashion week under designer Philipp Plein in his show. The shift from local thug to a high-end model was drastic to say the very least. The police station where he was arrested, changed his life for the better. With the transition going from hot mugshot guy to the hot modeling dude!
Conclusion
One might say things turned out for the better for Jeremy, although he proclaimed himself to be "No kingpin."   So, how did a mug shot became globally known?  It was due to social media and memes that became his stepping stone to fame. Overall, we can thank the internet for Jeremy's rise to celebrity status. 
Make the funniest memes in your group of friends. Find the perfect image, gif, or video and use Meta Meme to turn it into the next big thing.  Click here and scroll down to download our app!